Mellor Mill
Mellor Mill was built by Samuel Oldknow in 1790-92 and was burnt out in 1892.  It was the largest cotton mill of its time and the template for the architecturally impressive mills that spread through the region.  Following Oldknow's diversion of the River Goyt, it was the final flowering of water power, with large stone-built tunnels for water and drive shafts.  The site now looks like wild woodland until you walk in and find the deep holes of the wheelpits and cellars. In 2009, excavations at the south end of the mill, in the car park near the millpond, uncovered mill walls, steps down to a cellar with two blocks for mounting machinery and bits of a singeing frame (for removing projecting hairs from a cotton yarn to make it smooth). Subsequently walls at the north end of the mill have been uncovered. In 2011, a grant from the Association for Industrial Archaeology enabled 120 tons of debris to be cleared from the Wellington wheelpit under the centre of the mill and open it for public view. Volunteers have continued to clear the cobbled area in front of the mill, a stable for visitor's horses under the central projection and the 100-metre tunnel for the drive shaft from the Waterloo wheel.
There is more than the mill. Nearer the river, there is the Waterloo wheelpit, the sites of workshops, stables, and gasworks and a tunnel under Lakes Road to Oldknow's mansion and garden. The heritage also includes Bottoms Hall, with Oldknow's model farm and the apprentice house, and the transformation of the south millpond into the Roman Lakes Leisure Park. In September 2012, after two unsuccessful bids, HLF granted £45,000 towards the development stage of the porject "Revealing Oldknow's Legacy: Mellor Mill and the Peak Forest Canal in Marple". The main bid, to be submitted in May 2013, will be for £1.2M jointly with the Canal and River Trust, reflecting Oldknow's promotion of the canal. If approved, the whole industrial complex will be uncovered and opened to the public, plus an innovative approach to digital learning as well as more traditional ways of displaying information.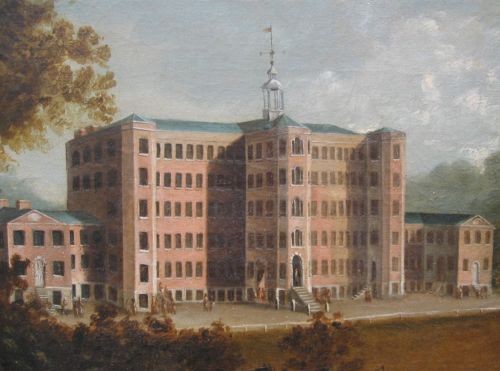 Where is Mellor?
Now on the edge of Stockport in Greater Manchester, Mellor's location is historically important.
On the south-west and north-west, it is bordered by the two great rivers, Goyt and Etherow, which drain the SW Peak District and join to form the Mersey at the lowest point of Mellor.
On the east, a high ridge overlooks a valley, behind which is Kinder Scout. Three spurs, separated by brooks, project west from the ridge.