Welcome to the web site of Mellor Archaeological Trust
Get Involved

Become a Friend of the Mellor Archaeological Trust Friends of the Mellor Archaeological Trust was set up in 1999 to support the work of the Trust in uncovering the archaeology and heritage of...
Diary Dates

The Trust Christmas Lunch will  be at Roman Lakes on Sunday 6th December 2015. Put the date in your diaries, paper or digital. More details to follow.
More Articles



Mellor Mill Heritage Day, Sunday, September 6th, 2015, 11am - 5pm
Fact & Fun at the Roman Lakes
Fact and Fun at the Roman Lakes with Mellor Archaeological Trust and Friends of Our Valley, revolving round the emerging 'Revealing Oldknow's Legacy' project.
Entry by Programme £3 on the day !
Under 16s Entry Free!
Music featuring Dr. Butler's Hatstand Medicine Band & Marple Hall Big Band
Local Produce
Rural Crafts
Pop-up Museum
Beer Tent
Food Stall
Lectures
Historical tours and the Valley Area
Ecology Display
Traditional Entertainment and all Fun of the Fair
 About the Trust
The Trust was formed in 2000 following the discovery in 1998 of an Iron Age ditch in the garden of The Old Vicarage next to Mellor Church.  Excavations continued to 2009 and have been described as the largest excavation for a generation of a hillfort in North West England "with results as important as those at Beeston Castle". There have been finds from Mesolithic, Neolithic, Bronze Age, Iron Age, Romano-British and Medieval times. In 2007, the Trust extended its activities to cover the whole history of the whole Parish of Mellor. Digs, which are continuing annually, at the Bronze Age burial site of Shaw Cairn on Mellor Moor included finding of nearly 100 beads of an amber necklace in 2008/9. Current work is focused on Mellor Mill, the largest and most impressive cotton mill in the world when it was built in 1790-92. It was burnt out in 1892. The area became woodland, which is now being converted into a small country park showing the remains of the mill and other buildings.
Enjoy reading about the archaeology, history and buildings of Mellor and find out about volunteering, events, publications and other activities.
Mellor Mill painting by Joseph Parry now displayed in Marple Library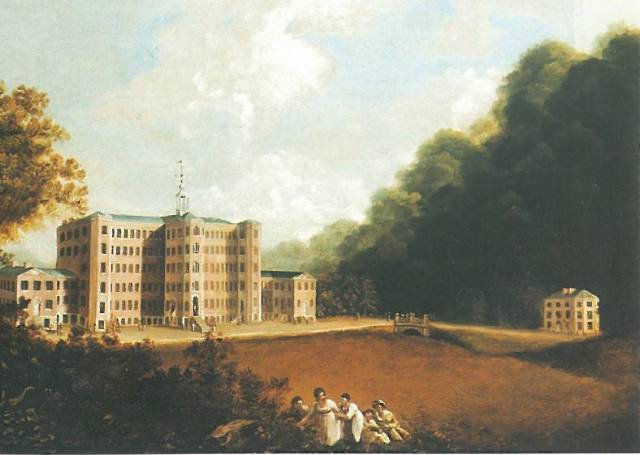 Painting of Mellor Mill by Joseph Parry (1744-1826)
THE PAINTING HAS BEEN HUNG IN MARPLE LIBRARY FOR THE COMMUNITY TO SHARE
Where is Mellor?
Now on the edge of Stockport in Greater Manchester, Mellor's location is historically important. 
On the south-west and north-west, it is bordered by the two great rivers, Goyt and Etherow, which drain the SW Peak District and join to form the Mersey at the lowest point of Mellor.
On the east, a high ridge overlooks a valley, behind which is Kinder Scout. Three spurs, separated by brooks, project west from the ridge.