Welcome to the web site of Mellor Archaeological Trust
Diary Dates

Revealing Oldknow's Legacy:Community Dig 18th - 22nd & 25th to 29th April, 9am - 4pm Community Dig at Oldknow's Mansion Come and help us uncover another exciting part of Oldknow's story as we...
Revealing Oldknow's Legacy
John Glithero: The excavation of the engine house and gearing passage at Mellor Mill has made great progress. The boiler seatings, engine bed and bearing foundations have all been exposed and allow some...
More Articles



Barging Round Britain
Just in case you missed Barging Round Britain on ITV on Friday night, centred on the Peak Forest Canal with stop offs to investigate Oldknow's work and that of his workers, at Mellor Mill, Lime Kilns & Aqueduct it may be seen, for 30 days, until 22nd. May on Barging Round Britain with John Sergeant - Episode 1 / from 8.00 minutes to 12.00 minutes, Mill & Lime Kilns, and directly after the adverts, onto the Aquedu
Lancashire Mills to Close?
This summer may be your last opportunity to visit Helmshore & Queen Street Mills. These historic Lancashire textile sites are threatened with closure in September 2016. Details on this pdf
Queen Cotton
Happier days for the textile industry, "' 'Queen Cotton' is a Technicolor introduction to the manufacture and design of both woven and printed cotton fabrics, the products of which are presented in a stunning fashion show."
> >
Original Description: Lancashire Cotton
'Cranes swing out over the docks of Manchester. Bales of raw cotton come in from all over the world for the looms of Lancashire. Even in wartime Lancashire supplied the world's cotton goods.
The film includes a display of fashions in fascinating cotton fabrics by well-known dress designers.'
(Films of Britain - British Council Film Department Catalogue - 1941)
About the Trust
The Trust was formed in 2000 following the discovery in 1998 of an Iron Age ditch in the garden of The Old Vicarage next to Mellor Church. Excavations continued to 2009 and have been described as the largest excavation for a generation of a hillfort in North West England "with results as important as those at Beeston Castle". There have been finds from Mesolithic, Neolithic, Bronze Age, Iron Age, Romano-British and Medieval times. In 2007, the Trust extended its activities to cover the whole history of the whole Parish of Mellor. Digs, which are continuing annually, at the Bronze Age burial site of Shaw Cairn on Mellor Moor included finding of nearly 100 beads of an amber necklace in 2008/9. Current work is focused on Mellor Mill, the largest and most impressive cotton mill in the world when it was built in 1790-92. It was burnt out in 1892. The area became woodland, which is now being converted into a small country park showing the remains of the mill and other buildings.
Enjoy reading about the archaeology, history and buildings of Mellor and find out about volunteering, events, publications and other activities.
Mellor Mill painting by Joseph Parry now displayed in Marple Library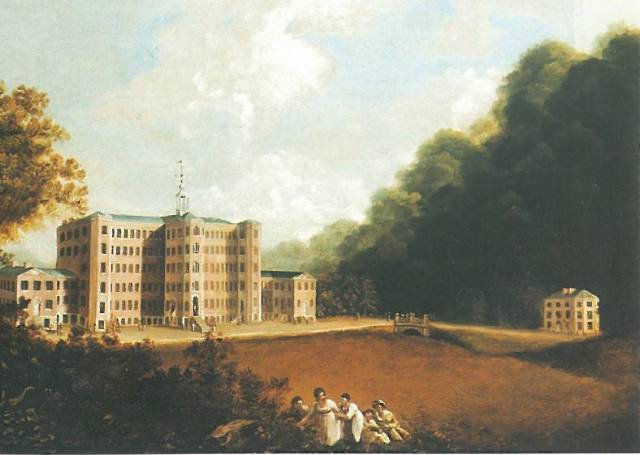 Painting of Mellor Mill by Joseph Parry (1744-1826)
THE PAINTING HAS BEEN HUNG IN MARPLE LIBRARY FOR THE COMMUNITY TO SHARE
Where is Mellor?
Now on the edge of Stockport in Greater Manchester, Mellor's location is historically important. 
On the south-west and north-west, it is bordered by the two great rivers, Goyt and Etherow, which drain the SW Peak District and join to form the Mersey at the lowest point of Mellor.
On the east, a high ridge overlooks a valley, behind which is Kinder Scout. Three spurs, separated by brooks, project west from the ridge.