Welcome to the web site of Mellor Archaeological Trust
Revealing Oldknow's Legacy

Sunday 24th. July 11.30am to 4pm Visit our live archaeological site, for a jam packed day of fun activities!From trying your hand at digging, or exploring the excavations on a guided tour, to...
Revealing Oldknow's Legacy

Revealing Oldknow's Legacy: Community Dig at Oldknow's Mansion Monday 18th to Friday 22nd July 2016, 9am until 4pm. Help us uncover another exciting part of Industrialist Samuel Oldknow's story as...
More Articles



John Hearle MBE 1925-2016
Sadly we have to report that John Hearle, Chairman and founder of the Trust, passed away peacefully, in May this year. Our thoughts are with Ann and family.
An appreciation of John's life will appear on the site at a later date.
Two aspects of John's archaeology work, two ages of Man.
The Iron Age & The Industrial Revolution
Handover Event, Sunday, 30th September 2012
Grand Re-Opening Wellington Wheel Pit, March 2012
About the Trust
The Trust was formed in 2000 following the discovery in 1998 of an Iron Age ditch in the garden of The Old Vicarage next to Mellor Church. Excavations continued to 2009 and have been described as the largest excavation for a generation of a hillfort in North West England "with results as important as those at Beeston Castle". There have been finds from Mesolithic, Neolithic, Bronze Age, Iron Age, Romano-British and Medieval times. In 2007, the Trust extended its activities to cover the whole history of the whole Parish of Mellor. Digs, which are continuing annually, at the Bronze Age burial site of Shaw Cairn on Mellor Moor included finding of nearly 100 beads of an amber necklace in 2008/9. Current work is focused on Mellor Mill, the largest and most impressive cotton mill in the world when it was built in 1790-92. It was burnt out in 1892. The area became woodland, which is now being converted into a small country park showing the remains of the mill and other buildings.
Enjoy reading about the archaeology, history and buildings of Mellor and find out about volunteering, events, publications and other activities.
Mellor Mill painting by Joseph Parry now displayed in Marple Library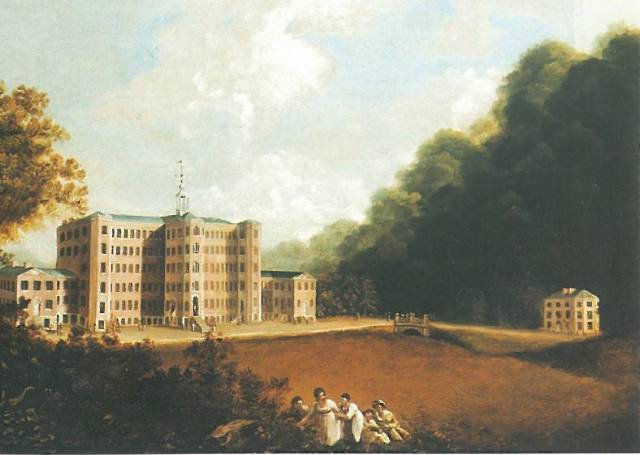 Painting of Mellor Mill by Joseph Parry (1744-1826)
THE PAINTING HAS BEEN HUNG IN MARPLE LIBRARY FOR THE COMMUNITY TO SHARE
Where is Mellor?
Now on the edge of Stockport in Greater Manchester, Mellor's location is historically important. 
On the south-west and north-west, it is bordered by the two great rivers, Goyt and Etherow, which drain the SW Peak District and join to form the Mersey at the lowest point of Mellor.
On the east, a high ridge overlooks a valley, behind which is Kinder Scout. Three spurs, separated by brooks, project west from the ridge.